Ginger Kroft inspires students to develop independence, imagination, and connection through clarinet lessons.  Students have numerous opportunities for development and challenge.  
For clarinet lessons, CLICK on this form to reach Ms. Kroft.  She is on faculty at San Francisco Conservatory of Music and Santa Clara University; and maintains a private teaching studio in the South Bay.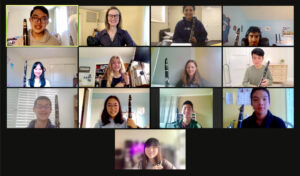 Clarinet Workshop Series – Middle & High School
Workshops are open to the public … join us!
June 19:  Articulation = fast & clean
July 10:  Reeds & Tone Development = sound YOUR best
August 7:  "Express Learning" = reach the next level
WHEN:  10am (Middle school) and 11am (High school)
WHERE:  Virtual ONLINE session
ENROLL:  Enrollment opens after previous workshop concludes. Click HERE to inquire
Virtual Lessons are available!  Students enjoy studies in foundation, individual projects, and ensemble music.  Studio members participate in their school bands, youth orchestras, All-State/All-County honor bands, and solo competitions.
Ms. Kroft provides leading-edge online courses for her students.  Each student receives tailored, one-to-one lessons and Ms. Kroft's industry-unique, online courses. CLICK on this form to reach Ms. Kroft.
"I have a vision for each student and tailor an enriching program of technique and artistry.  My studio is built on meaningful and process-oriented goals.  The result … students leave each lesson with a satisfaction and curiosity to drive their studies for the coming week."